Gastenboek
11-10-2011

- kipgrill geprobeerd geweldig ding geemn ander worden voor

kip smaakt... 

lees meer

29-06-2011

- is it possible to order this part for Switzerland?

Kind regards

Jürg

lees meer

29-04-2010

- INGENIUS. MIGHT GO WELL IN THE US. I`D... 

lees meer
Plaats een bericht
Tips
Kindling: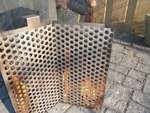 - Take the fire basket (with the supplied handle!) from the KipGrill®
- Put three kindlings on the bottom of the fire basket and ignite them
- Wait for approximately five minutes
- Fill the half of the basket with briquettes
- Put three kindlings on top of the briquettes and ignite these
- Fill the rest of the basket with briquettes
- Do not start with grilling until the basket is well on fire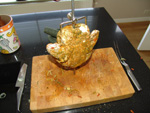 Adjustment:
- Attach the chicken to the middle of the spear
- Put the top of the spear on a piece of wood an start rotating it to make sure the chicken is firmly mounted on the spear.
- The chicken should not be imbalanced and should rotate easily
Cleaning: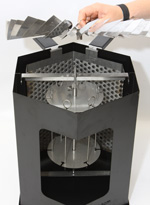 - After finishing you favourite course the KipGrill® is easy to dismantle
- Don't use your dishwasher but simply clean the parts with water and soap

Storage:
- Store the KipGrill® in a dry and clean place

Recipes:
- Look on the recipe page
Give away: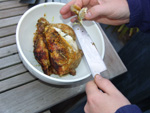 -The KipGrill® is an ideal give away, many companies have presented it.
Aanbieding
Bradley Rookgenerator (in combinatie met eigen rookkast)
€ 255,00
€ 225,00
Winkelwagen
Geen artikelen in winkelwagen.